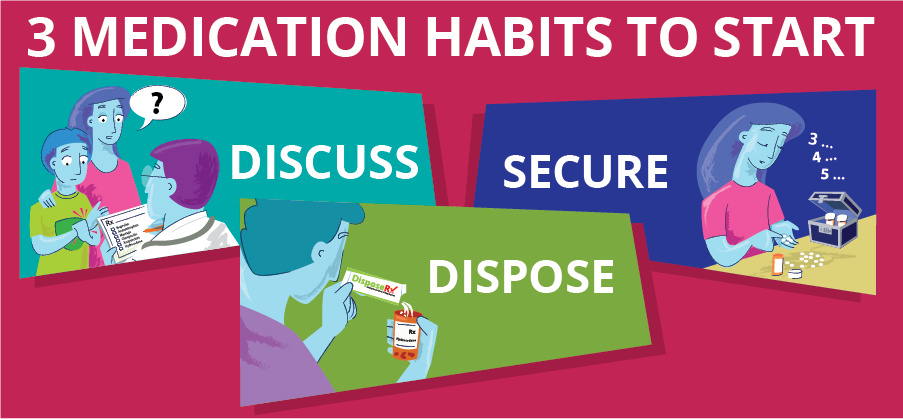 The Kenosha County Substance Abuse Coalition (KCSAC) invites you to start three medication habits: DISCUSS; SECURE; DISPOSE. Of course, if you're already doing these, please do continue!
DISCUSSING treatment options with your health care provider and being an informed consumer is the first step. You are in charge of your healthcare and, potentially, that of others. It's OK to ask your doctor for more information about their recommendations before deciding which is the right choice for you or your loved one.
SECURING your medications is an important and easy way for you to help keep your family and friends safe. Most people think only those with little ones or teens need to secure their meds. However, while children are more susceptible to accidental ingestion, anyone experimenting with drugs or struggling with a substance use disorder may sneak your medications.
Furthermore, according to the Partnership for Drug-Free Kids, two-thirds of teens who misused pain relievers in the past year say they got them from family and friends, including their own homes' medicine cabinets, making safeguarding medicine in the home vitally important. Safe storage and disposal of medications diminish opportunities for easy access.
DISPOSING of your medications properly is the last step in safe medication habits and can benefit your whole community.
Please start these three easy medication practices: DISCUSS, SECURE, DISPOSE. By doing so, you really might SAVE A LIFE.