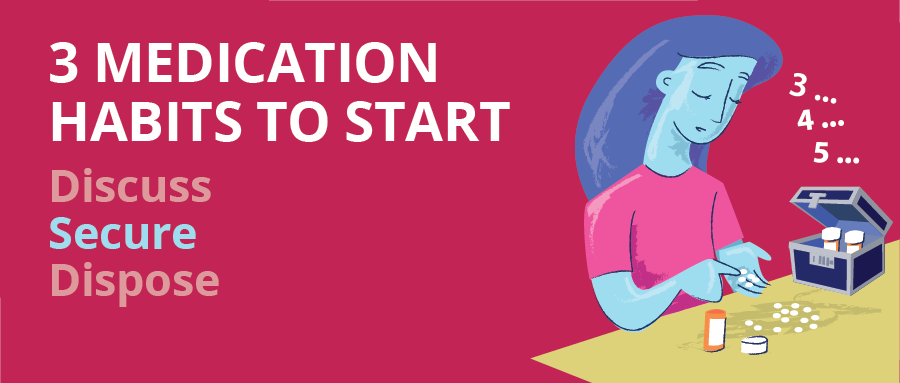 WOULD YOU KNOW IF ANY PILLS WERE MISSING?
SECURING your medications is an important and easy way for you to help keep your family and friends safe. Most people think only those with little ones or teens need to secure their meds. However, while children are more susceptible to accidental ingestion, anyone experimenting with drugs or struggling with a substance use disorder may sneak your medications.
Furthermore, according to the Partnership for Drug-Free Kids, two-thirds of teens who misused pain relievers in the past year say they got them from family and friends. This includes their own homes' medicine cabinets, making safeguarding medicine in the home vitally important. Safe storage and proper medication disposal diminishes the opportunities for easy access.
The best place to start securing is by ensuring that you're aware of all medications in your home and storing them safely. You should also have a discussion with your kids and family about the dangers of medicine abuse. Make changes today. You could SAVE A LIFE.
Take the following preventative steps:
Use a lockbox rather than a medicine cabinet for your medications.
Keep that lockbox in a safe place, such as a locked closet, inaccessible to those who may abuse the medications.
Safeguard all medicines by monitoring quantities and controlling access.
Taking note of how many pills are in each of your prescription bottles or pill packets, and keep track of refill schedules. Regularly check to see if anything is missing. This goes for your own medicine, as well as for your kids' and other members of the household. If you find you need to refill your medicine more often than expected, that could indicate a problem.
If your child has been prescribed a medicine, be sure YOU control the medicine, and monitor dosages and refills. You need to be especially vigilant with medicines that are known to be addictive and commonly abused by teens, such as opioids, benzodiazepines, and stimulants.
Warn your youngsters that taking prescription or over-the-counter (OTC) drugs without a doctor's supervision can be just as dangerous and potentially as lethal as taking street drugs.
Make sure your friends, parents of your child's friends, neighbors, and relatives — especially grandparents — are also aware of the risks. Encourage them to regularly monitor their own medicines in their own homes.
Properly DISPOSE of old, expired, or unused medicines (also referred to as off-therapy medications) in the trash. Learn more here.
SECURE means approaching your prescriptions the same way you would other valuables in your home, like jewelry or cash. Nobody thinks twice about protecting those items, and the same holds true for your medicine.